Berlin, February 12, 2004 AWARDS NIGHT 2004
BerlinBeirut by Myrna Maakaron wins first BERLIN TODAY AWARD
The hosts of the AWARDS NIGHT 2004 – the Berlinale Talent Campus, Medienboard Berlin-Brandenburg GmbH and PLANET TV – had every reason to be more than content: when moderator Gesa Ufer (Radio Eins) officially opened the evening at 8:30pm more than 1,200 guests had found their way to the Kulturbrauerei's Kesselhaus for the twin ceremony of the PLANET DOCUMENTARY AWARD
and the BERLIN TODAY AWARD.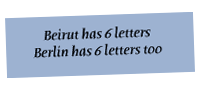 Dieter Kosslick, who was unable to attend in person, insisted on greeting the talents, nominees and winners with a video message directly from the red carpet. Gesa Ufer led to the the first presentation of the BERLIN TODAY AWARD. Prof. Keil, director of Medienboard Berlin-Brandenburg GmbH and also initiator and sponsor of the BERLIN TODAY AWARD, was happy that the idea, which had been developed in cooperation with the film industry in Berlin-Brandenburg, to invite young filmmakers to start a dialogue about Berlin and the region had already succeeded in its first year by producing three different, personal and inspiring views of the city.
Michael Verhoeven, jury member of the BERLIN TODAY AWARD and together with Hans-Christian Schmid and Maria Köpf one of the three new mentors of the award, announced the winner: BerlinBeirut by Myrna Maakaron from Lebanon. With its smart parallel montages, BerlinBeirut combined both the differences but also the similarities between the two cities. The result was a very personal film, an essayistic collage which reveals structures that go deep and that combine the two cities: two formerly divided cities where both past and present are present, the jury found in its reasoning.
The award itself was a surprise: Prof. Keil presented Myrna Maakaron an ice sculpture shaped like a butterfly and made by the Danish artist Jeppe Hein. At the end of the awards ceremony, Gesa Ufer thanked all of the sponsors again and opened the buffet. The highlight of the subsequent party was the show by the Berlin-based band Puppetmastaz tha rocked the Kesselhaus. Berlin's own VJ team Vidiots and DJ Mark van der Ree (Klangspiel) provide the right backdrop of sounds and images to keep the talents and guests on the dance floor until early in the morning.

The BERLIN TODAY AWARD is a joint award by the film industry in Berlin-Brandenburg, initiated and sponsored by
Filmboard/Medienboard Berlin-Brandenburg GmbH / coordination: Frank Stehling
and organized by boxfish films - Büro für Film + Kommunikation.
Media partner of the BERLIN TODAY AWARD is Deutsche Welle, DW-TV.